We know this space,
and we know it well.
TTG+PARTNERS is the nation's only communications consultancy with the unique focus on promoting diversity and equity in higher education. We are passionate in our stance—true activists at heart—that educational opportunities should be afforded to all people in an equitable manner as a principle of justice.
We understand that equity in education must be addressed in order to ensure that all students develop the skills necessary to thrive in a globally competitive environment. And because of our unique focus, our team includes experts who have content knowledge and understand the complexities of working within such a sensitive environment. Put simply: This is our space and we know it well.
We listen, and we take
the right action.
TTG+PARTNERS is unique—rejecting the notion of "spin" and "canned" PR tactics—to maximize the potential of each client. Collectively, our highly experienced communications team has unparalleled knowledge about education disparities and social justice issues. Collectively, we have a rich history of advancing the ideas of key education players to help them take center stage on matters most important to them.
Whether the goal is to increase higher education graduation rates among low-income, first-generation, and ethnic/racial minority students, end the schoolhouse to jailhouse pipeline for African-American males, or stop the dismantling of bilingual education programs available for Latino high school students, we take the right action to achieve the desired outcome for clients.
Tia T. Gordon, M.A., Founder + CEO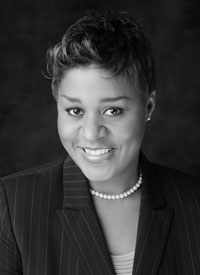 Tia T. Gordon is the founder and CEO of TTG+PARTNERS, a creative communications consultancy in higher education specializing in starting thoughtful conversations on race, ethnicity, and diversity.
With nearly two decades of communications experience, Gordon is a visionary leader who is dedicated to giving a "voice to the voiceless."  She works with some of the nation's top colleges and universities, Fortune 500 companies, and nonprofit organizations to spearhead groundbreaking campaigns and initiatives aimed at empowering traditionally underserved populations.  Gordon uses her expertise in media relations, crisis management, diversity and inclusion, and strategic communications and marketing to help change attitudes and shift perceptions toward various communities in need.
As the former spokesperson for the entire U.S. lodging industry and communications lead for PBS' (Public Broadcasting Service) education initiatives, Gordon continues to lend her savvy communications skills to help others improve their outreach efforts.  She is also an experienced and sought after speaker—often on topics related to understanding communications and reaching diverse audiences—who has been quoted in Diverse: Issues in Higher Education, Huffington Post, Los Angeles Times, MadameNoire Business, New York Times, USA Today, and Washington Post.
Gordon is currently an editorial board member for INSIGHT Into Diversity magazine as well as previously served as a board/advisory member for the Black Public Relations Society, Public Relations Society of America, and Wyndham Hotels and Resorts.
Gordon has a bachelor's degree in communications from Washington Adventist University and a master's degree in public communications from American University.  She also participated in postgraduate communications work at The George Washington University.